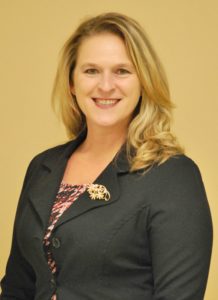 ELMHURST, Ill., November 22, 2017 – The Elmhurst Chamber of Commerce & Industry Board of Directors approved the appointment of outgoing Director Julie Miller as Chair of the Centennial Celebration Committee at its regular monthly meeting held November 21 in the Hammersmith Community Room at Community Bank of Elmhurst (330 West Butterfield Road).
Newly-elected Board Chair Ken Bartels of Community Bank of Elmhurst (330 West Butterfield Road) appointed Miller to succeed him as Committee Chair as planning continues for the Chamber to celebrate its 100th Anniversary in 2018.
A Director for nine of the past 10 years, Miller became the eighth of only nine women to serve as Board Chair back 2014 in the Chamber's 99-year history—all of them since 1982 and seven during John R. Quigley's 18-year tenure as President and CEO.
Miller interned at the Chamber during her senior year at Elmhurst College, while completing work on a Bachelor of Arts degree (2000) in Government and Urban Studies.
Quigley hired Miller as his first student intern after he left Elmhurst College, also his Alma Mater), to run the Chamber, which is where Sheehan and her first met.
Prior to becoming Board Chair, Miller served as First Vice Chair and Chair of the Marketing Committee in 2013, Second Vice Chair and Chair of the Membership Committee in 2012, and Ways and Means Committee member from 2015-17 and 2008-11.
Miller has served as the Director of Operations at IRS Troubles Solvers (formerly Patrick T. Sheehan & Associates, Attorneys at Law (314 North York Street) since 2000.  The law firm has been a Chamber member since 1997.
Miller resides in Elmhurst with her husband Patrick Sheehan, a Chamber member since 1997 and a former Director himself.
Miller (Treasurer) and Sheehan (President) also are among the Directors and Officers of the Hops for Humanity, a charitable organization they founded in 2014.