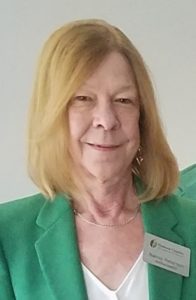 ELMHURST, Ill., December 20, 2017 – Nancy Peterson of Elmhurst will be honored as 2017 Ambassador of the Year at the Elmhurst Chamber of Commerce & Industry's 99th Annual Awards Gala and 100th Birthday Bash at The Drake Oak Brook Hotel in Oak Brook on Friday, January 26, from 5 to 9 p.m.
The award is presented annually to a member of the green-coated Chamber Ambassadors for his/her outstanding service.
Peterson has served as a Chamber Ambassador for the past three years, while representing the Elmhurst-Yorkfield Food Pantry, a Chamber member since 2013.
"Nancy is an amazing person with great empathy for those in need," said John R. Quigley, the Chamber's President and CEO since 1999, "and an unbounding capacity for giving back to her community."
As ECCI's public relations team, Ambassadors welcome new members at their Grand Opening celebrations with ribbon-cuttings, and join members celebrating Grand Re-Openings, major anniversaries and office expansions or relocations.
Peterson is a Board member, former Treasurer and Capital Campaign Committee member of the Elmhurst-Yorkfield Food Pantry, which raised more than $900,000 to construct a new 2,500-square-foot facility on Yorkfield Presbyterian Church property and in 2016 moved out of the church basement it had occupied since 1983.
The Food Pantry has hosted one of the Chamber's monthly Membership Breakfasts in each of the past two years.
Peterson assumed the position of Treasurer of the then-Food Pantry Committee in June of 2011 immediately following her retirement as a school psychologist at Wheaton North High School after 21 years.  She is a Past President of the West Suburban School Psychologists Association and Illinois School Psychologists Association.
Peterson has served on several board and committees at Yorkfield Presbyterian, where she also teaches Sunday School to high schoolers and serves as coordinator of the ushers.
Peterson earned a Master's of Arts degree (1996) in School Psychology from Illinois State University in Normal and holds a Bachelor of Arts degree (1974) from Millikin University in Decatur with a double major in psychology and sociology.  In 2011, ISU's Psychology Department awarded Peterson as "alumna of the Year."
Established in 1918, the Elmhurst Chamber of Commerce & Industry is a voluntary organization of business and professional men and women who have joined together to promote the civic and commercial progress of the community.
The Chamber also serves the needs of its members through services, programs and events that provide opportunities for networking and referral, business education, development and promotion, governmental representation and community involvement.
The Chamber's mission is to promote an environment that creates success for local businesses and our community.