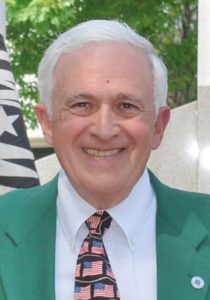 ELMHURST, Ill., December 20, 2017 – Ralph Pechanio of Elmhurst will receive the 2017 Chairman's Award at the Elmhurst Chamber of Commerce & Industry's 99th Annual Awards Gala and 100th Birthday Bash at The Drake Oak Brook Hotel in Oak Brook on Friday, January 26, from 5 to 9 p.m.
Traditionally, the annual award is given to a member of the Chamber's Board of Directors for his/her outstanding service to the Board, Chairman and President/CEO or to a non-Director for praiseworthy contributions or performance.
"Ralph is a touchstone through which multiple generations of businesspeople, civic leaders and community volunteers have connected dating back to the 1970s," said John R. Quigley, ECCI President and CEO since 1999, and active in the Elmhurst Chamber for 25 years.
Outgoing ECCI Board Chair Joe Muchow of E.L. Foust Co. will present the award to Pechanio.
In 2017, Pechanio served as the appointed Treasurer on ECCI's Board of Directors for the third straight year and remained the primary donor to both the Ralph P. Endowment Student Internship Fund and non-endowed student internship fund at Elmhurst College.
An active Chamber member for 45 years, Pechanio also has served three Board terms as an elected Director (1980-82, 1987-89 and 1990-92), including tenures as 1992 Chair (then President) and as Treasurer in 1981 and 1990.
A green-coated Chamber Ambassador since 1992, Pechanio is a two-time recipient of the Ambassador of the Year award (2011 and 1993).
Pechanio has served the business and civic communities since his "retirement" from banking in 1993, including chairing the Elmhurst Veterans Memorial Commission since its inception prior to the Elmhurst Veterans Memorial dedication on May 31, 1993, and co-chairing the Elmhurst Memorial Day Parade Committee since 1997.
"Ralph is the epitome of what it means to be a selfless volunteer," stated Quigley, who serves as Pechanio's Memorial Day Parade Committee Co-Chair.
A veteran of the United States Army (1965-67), Pechanio played an integral role as Fundraising Chairman in the building of the Veterans Memorial in Wilder Park during his tenure as ECCI Board Chair.
His local affiliations include the Kiwanis Club of Elmhurst and Elmhurst American Legion THB Post 187.
Pechanio received ECCI Civic Hall of Fame induction in 2015, the Elmhurst Jaycees' Distinguished Service Award recipient in 2001, ECCI's Good Works Award in 2009 and Elmhurst College Bluejay Backers' Community Service Award in 2014.
His community banking career included 23 years at the former Elmhurst Federal Savings Bank (1970-93) as a Controller, Vice President and Treasurer, and then Chief Financial Officer.  Prior to Elmhurst Federal, he served as a Savings and Loan Examiner at the State of Illinois' Department of Financial Institutions (1964 and 1967-70).
Pechanio graduated from DePaul University in 1964 with a Bachelor of Science of Commerce with a major in accounting and then served in the U.S. Army (1965-67).
He and his wife, Georgette, have resided in Elmhurst since their marriage in 1969.
Established in 1918, the Elmhurst Chamber of Commerce & Industry is a voluntary organization of business and professional men and women who have joined together to promote the civic and commercial progress of the community.
The Chamber's mission is to promote an environment that creates success for local businesses and our community.
The Chamber also serves the needs of its members through services, programs and events that provide opportunities for networking and referral, business education, development and promotion, governmental representation and community involvement.