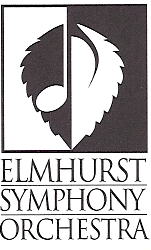 Elizabeth Downey, President, Board of Directors
P.O. Box 345
630-941-0202 • fax – 630-941-0627
www.elmhurstsymphony.org
The Elmhurst Symphony Orchestra (ESO), which celebrated its 55th Anniversary in 2016, performs a five-concert symphonic season at Elmhurst Christian Reformed Church starting each fall.
Elmhurst Christian Reformed Church's state-of-the-art facility has improved amenities that heighten every aspect of a performance, making the ESO experience comparable to that of premier symphonic organizations—but for a more reasonable price.
The origin of our community's organized musical activity may go back to the 1920s.  From 1959 to 1961, the community musicians evolved from the Elmhurst Community Orchestra to the Elmhurst Symphony Orchestra.  Led by inaugural Music Director John Lazic (1959-65), the ESO's first performance came on November 19, 1961.
ESO and Elmhurst College share a relationship dating back to 1959—the year that the College's Hammerschmidt Chapel, the Orchestra's concert home for nearly five decades, was dedicated.  From 1968-72, then-College President Dr. Robert Stanger also served as President of the ESO Board of Directors.
At the Robert Stanger Young Artist Auditions, sponsored in part by the Kiwanis Club of Elmhurst (in honor of Past Club President Dr. Stanger) and the Auxiliary of the Elmhurst Symphony Association, outstanding local area high school instrumentalists compete each winter for the opportunity to perform a concerto movement with the ESO.  Auditions are held at the College's Buik Recital Hall each January.
Nationally renowned, Dr. Stephen Alltop has served as ESO Musical Director since 1995, following the batons of Dale Clevenger (1981-95), John Duckwall (1973-81), Gordon Peters (1968-73), Stanley Ackerman (1965-68) and Lazic.