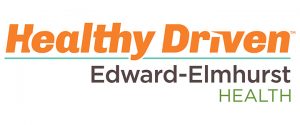 The 2013 merger of Elmhurst-based Elmhurst Memorial Healthcare and Naperville-based Edwards Hospital and Health Services laid the groundwork for the "Healthy Driven" institution recently renamed as Edward-Elmhurst Health.
The merger created one of the larger integrated health systems in the state comprised of three hospitals (Edwards, Elmhurst Memorial and Linden Oaks at Edwards) and more than 50 outpatient locations across a service area of 1.7 million residents.  The system employs nearly 7,400 and has more than 1,900 physicians on staff.
Since late 2014, Roscoe native Danica Patrick, the most successful woman in the history of American auto racing, has served as the face of EEH's Healthy Driven marketing campaign.
---

Elmhurst Memorial Hospital

---

155 East Brush Hill Road

Founded in 1926 as the first hospital in DuPage County, Elmhurst Memorial's new acute care Hospital features all private rooms, a state-of-the-art Emergency Department and technologically advanced surgical suites.  Amenities include guest rooms for family and friends, healing gardens and extensive landscaping, including a walking path.

Opened in the summer of 2011, the 259-bed Hospital is the centerpiece of a 50-acre integrated healthcare campus in south Elmhurst adject to the Center for Health.

When completed, the $500 million development will include facilities for specialty services, individual physician offices and a retail complex.

With some 3,000 employees and 600 physicians, the hospital staff is committed to excellence in medical and surgical care, behavioral health, cardiology, emergency care, maternity, neurosurgery, oncology, orthopedics and pediatrics.

Additional services include a skilled nursing facility, the Palliative Care Unit, the Center for Pain Management, the Sleep Disorders Center, the Breast Health Center, the Cancer Center and Family Birthing Center.

---

Elmhurst Memorial Center for Health

---

1200 South York Street
630-758-8000

Openind in 1999, the Elmhurst Memorial Center for Health offers a unique setting for physician practices, outpatient healthcare services and the Elmhurst Outpatient Surgery Center.

Other Health Center locations include:

Elmhurst Memorial Lombard Health Center and Elmhurst Memorial Sleep Center (Lombard)

630-652-1700

Elmhurst Memorial Addison Health Center

630-628-6246

Elmhurst Memorial Health Education Center for the Community of Villa Park

630-993-0881

---

Elmhurst Clinic

---

Established in 1952 as one of the first multi-specialty medical groups in DuPage County, the Elmhurst Clinic is a group of 100 physicians and other medical providers representing 20 different specialties, including three in Elmhurst.

---

Other EHM facilities include:

---

LifePlan Center at CourtsPlus, a Centre for Health, Sports & Fitness (an Elmhurst Park District Facility)

186 South West Avenue

630-782-4950

www.epd.org/courts/lifeplan.asp

Elmhurst Memorial Guidance Services

183 North York Street

630-941-4577
Save
Save