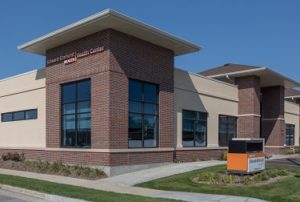 Edward-Elmhurst Health has opened a new Health Center at 755 N. York St., located on the north side of Elmhurst. The $3.1 million Center is a joint venture with MedProperties Group, a medical real estate developer.
The Center features physicians who specialize in family medicine, internal medicine, obstetrics/gynecology and gastroenterology. The 13,000-square-foot, single-story building includes 10 exam rooms, one procedure room, an endoscopy suite and four pre-procedure/post-recovery rooms.
The Center is the new home for Elmhurst Memorial Medical Group (EMMG) physicians who were previously located at 429 N. York., including Juan Perez, DO, family medicine; Dorothy Prusek, MD, internal medicine; Jacqueline Ross, MD, family medicine and Mais Trabolsi, MD, bariatric and obesity medicine/internal medicine. To schedule an appointment, call (331) 221-2900 or schedule online.
EMMG's board certified physicians provide primary care for infants through seniors. For more information, visit www.EEHealth.org/EMMG.
Jeffrey Fitzer, MD of Elmhurst Clinic provides a full range of obstetric and gynecologic services at the new Center. To schedule an appointment with Dr. Fitzer, who speaks Spanish, call (331) 221-9007.
In late October, Elmhurst Clinic will begin offering endoscopy services at the Center, including screenings to diagnose and procedures to treat gastrointestinal conditions. Elmhurst Clinic's gastroenterology team at the North Elmhurst location will include Elizabeth Sack Barczynski, MD; Christopher Boutin, MD; Michael Greenspan, MD and Patrick Lynch, MD. To schedule an appointment, call (331) 221-9003.
Elmhurst Clinic is a multi-specialty medical group with more than 100 physicians who practice in more than 20 specialties at 12 locations in Elmhurst, Addison, Bloomingdale, Lombard, Oak Park, River Forest, Hinsdale and Westchester. For more information, visit www.EEHealth.org/ElmhurstClinic.
For more information and to schedule an appointment with any of the physicians at the North Elmhurst location, visit www.EEHealth.org/NorthElmhurst.
Edward-Elmhurst Health and Elmhurst Hospital provide healthcare services for numerous communities throughout the western suburbs, including Addison, Bensenville, Bloomingdale, Clarendon Hills, Elmhurst, Franklin Park, Hinsdale, LaGrange, Lombard, Melrose Park, Oak Brook, Oak Park, River Forest, Westchester and Westmont.