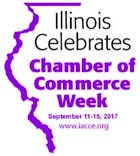 ELMHURST, Ill., August 30, 2017 – In celebration of Chamber of Commerce Week in Illinois, the Elmhurst Chamber of Commerce & Industry will sponsor a month of networking, educational and special events, stage our annual new member recruitment campaign and kickoff the public phase of our Centennial Celebration Capital Campaign.
At the request of the Illinois Chamber of Commerce, Illinois Governor Bruce Rauner has proclaimed September 11-15 as Chamber of Commerce Week in Illinois.
Mayoral Proclamation
Elmhurst Mayor Steve Morley has issued a Mayoral Proclamation declaring September 11-17 as Chamber of Commerce Week in Elmhurst.
Established in 1918, the Elmhurst Chamber is a voluntary organization of business and professional men and women who have joined together for the purpose of "promoting an environment that creates success for local businesses and our community."
The Chamber also serves the needs of its members through services, programs and events that provide opportunities for networking and referral, business education, development and promotion, governmental representation and community involvement.
"With nearly 600 members, the Elmhurst Chamber is the largest organization representing the interests of our businesses, and promoting commerce and industry throughout our community," said John Quigley, ECCI President and CEO since 1999, the longest tenured chamber executive serving in DuPage County.
Centennial Celebration Capital Campaign
As part of the its 100th Anniversary in 2018, the Chamber is running a $250,000 Centennial Celebration Capital Campaign to raise $150,000 for the Ralph P. Pechanio Student Internship Endowment Fund at Elmhurst College and $100,000 for Second Century Fund projects, including development of a public Civic Hall of Fame memorial.
For more information, contact Quigley by phone at 630-834-6060, ext. 225, or via e-mail at johnq@elmhurstchamber.org.
New Member Campaign
The Chamber's new member campaign, which runs through September, features a 16-month membership (good for all of 2018) at the annual cost. Chamber membership starts at $325 per year for businesses with one or two employees, plus a $25 registration fee. New members can pay Chamber dues monthly via direct debit or credit card.
For more information, contact Director of Member Services Tessa Zemgulys by phone at 630-834-6060, ext. 224, or via e-mail at tessaz@elmhurstchamber.org.
During September, Elmhurst also will sponsor its annual Membership Breakfast and Open House and Fourth Annual Pig Roast, and host two Professional Speaker Series presentations.
Event registration can be done on-line here via the event calendar module, e-mail at info@elmhurstchamber.org or phone at 630-834-6060.
Membership Breakfast/Open House
On September 14, our Chamber will host the monthly 8 a.m. Membership Breakfast in the DeForest Dance Academy Building at 300B West Lake Street.
DeForest Creative Group is an Event Sponsor.
The Chamber's Open House at 300A West Lake Street, Suite 201, follows the Membership Breakfast from 9 a.m. to 2 p.m.
Pig Roast
With summer coming to an end, the Chamber will stage its Fourth Annual Pig Roast at The Silverado Grill (447 Spring Road) on Tuesday, September 19, from 5 to 7 p.m.
Suburban Bank & Trust and Inland Bank are Event Co-Sponsors.
The cost of $30 per person includes a Barbeque Jim's-catered roast pig dinner with all the fixings and two alcoholic beverages. Tickets are limited to the first 125.
Professional Speakers Series
On Friday, September 29, our next quarterly Professional Speakers Series will feature 60-minute presentations at 8 a.m. by Wells Fargo Bank on how to "Improve Your Employees" Financial Well-Being" and at 11:45 a.m. by Coldwell Banker (Kathy Repsis), Lexington Square of Elmhurst and Next Step Advocate on "What is the Best Senior Living Option for Your Family." Complimentary food and beverages will be provided.