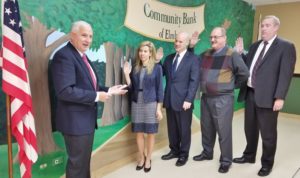 ELMHURST, Ill., November 22, 2017 – A Nominating Committee slate of six candidates were officially elected to three-year terms as members of the Elmhurst Chamber of Commerce & Industry Board of Directors at the Board's November 21 meeting at Community Bank of Elmhurst (330 West Butterfield Road).
Elected as a first-term Directors were:
Sean Daly, Vice President at Suburban Bank & Trust;
Shazad Mehta, Manager at Mehta Motors;
Mike Muisenga, Real Estate Consultant at Berkshire Hathaway HomeServices Prairie Path, REALTORS; and
Susan Tyburski, Executive Director, Elmhurst Memorial Hospital Foundation, at Edward-Elmhurst Health.
Re-elected to second terms as Directors were:
Mike Hauert, Partner and Attorney-at-Law at Hauert Law Office; and
Bill Korbel, Local Sales Manager at Shaw Media/Elmhurst Suburban Life.
"Our Chamber is blessed to have well qualified individuals willing to serve on the Board of Directors," said John Quigley, Chamber President and CEO since 1999.  "Three of these Directors have recently served on the Board, and a fourth is a past Director."
Hauert and Korbel were both elected as second-terms Directors and Daly has been a Board member since his 2016 appointment to fill a vacancy, while Tyburski served as a Director after her 2008 election to represent then-Elmhurst Memorial Healthcare.
Joe Muchow, President of E.L. Foust Co., since 1997, installed Daly, Hauert, Korbel and Tyburski in performing his next to last duty as 2017 Board Chair.
Mehta and Muisenga will be installed by new Board Chair Ken Bartels, Senior Vice President at Community Bank of Elmhurst, at the Board's December 12 meeting.
All of the elected Directors were slated by a non-Board Nominating Committee. This year's slate ran uncontested, with no Chamber member filing the required petition to run for election.
The Nominating Committee was comprised of the following five past Board Chairs:  Dee Longfellow (2015) of The Elmhurst Independent, Jennifer Speaker (2012) of SMB Advantage Group, Scott Levin (2010) of Howard & Howard, Cathy Bajkowski (2003) of CB Health Insurance and Rich Reichert (2001) of Community Bank of Elmhurst.
"Slating Directors is a more-business-like method for recruiting candidates with Board-specific skills, as compared to the popularity contest typical with most elections," said Quigley.
The Board is comprised of 18 elected Directors serving three-year terms, plus three Ex-Officio Directors and an annually-appointed Treasurer.  Elected Directors are limited to serving two consecutive terms, not counting years as an appointee filling a vacancy or as a post-term Past Chairperson.
Established in 1918, the Elmhurst Chamber of Commerce & Industry is a voluntary organization of business and professional men and women who have joined together to promote the civic and commercial progress of the community.
The mission of the Elmhurst Chamber is to promote an environment that creates success for local businesses and our community.
The Chamber also serves the needs of its members through services, programs and events that provide opportunities for networking and referral, business education, development and promotion, governmental representation and community involvement.