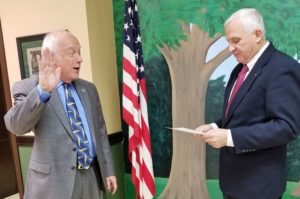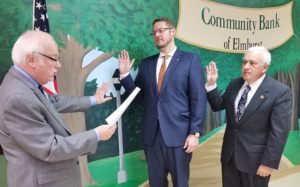 ELMHURST, Ill., November 22, 2017 – The Elmhurst Chamber of Commerce & Industry Board of Directors elected three officers and approved one appointment for its six-member Executive Committee for 2018 at its regular monthly meeting held November 21 in the Hammersmith Community Room at Community Bank of Elmhurst (330 West Butterfield Road).
Elected to serve one-year terms on the Executive Committee were:
Chairperson—Ken Bartels, Senior Vice President at Community Bank of Elmhurst (330 West Butterfield Road and 133 North York Street); and
First Vice Chairperson—Kevin Kost, Financial Advisor with Edward Jones Investments (928B South York Street).
Second Vice Chairperson—Lori Murray, Vice President, Branch Sales and Customer Service, at Inland Bank (539 Spring Road).
Appointed to serve a one-year term on the Executive Committee was:
Treasurer—Ralph Pechanio, Chair of the City of Elmhurst's Veterans Memorial Commission, former community banker and long-time Chamber volunteer.
Bartels, Kost, Murray and Pechanio will be joined on the Executive Committee by Immediate Past Chair Joe Muchow, President at E.L. Foust Co. (754 Industrial Drive), and ex-officio member John Quigley, Chamber President and CEO since 1999.
Bartels will work closely with the Chamber staff and oversee the policy-making work of the Chamber Board and its four standing committees (Marketing, Membership, Ways and Means, and Governmental Affairs), as well special committees and task forces—including the Centennial Celebration Committee planning for the Chamber's 100th Anniversary in 2018.
Kost, Murray and Pechanio will serve as Chairs of the Marketing, Membership and Ways and Means committees, respectively, while Quigley chairs the Governmental Affairs Committee.
Ken Bartels
Ken Bartels, Senior Vice President at Community Bank of Elmhurst since 2009, has been a Board member for 22 of the past 36 years, but did not serve on the Executive Committee until his 2016 election as a Director and as First Vice Chair and Marketing Committee Chair for 2017.
CBE joined the Chamber in 1992.
Bartels also is the Principal of Ken Bartels Consulting, a Chamber member since 2010.
Under his chairmanship, the Marketing Committee worked to redesign and reformat the Chamber's website (elmhurystchamber.org) onto a responsive WordPress platform, redesign the Chamber logo for the first time since 1990, design a Centennial Celebration logo and develop the Chamber's first Communications Plan.
Bartels served multiple terms as Chamber Director during his 28-year tenure (1981-2009) as Vice President of College Advancement and then College Relations as at Elmhurst College, where he holds the title of Vice President for College Relations Emeritus. He was an Elmfest Steering Committee member for two decades and is a reserve Chamber Ambassador
The Chamber honored Bartels with a Chairman's Award in 2009 and Presidential Service Award in 1997.
It was through his mentorship that Chamber President and CEO John Quigley first became active in the Chamber 25 years ago while working for Bartels at the College.
Bartels also was a two-term member on the Board of Directors of the Elmhurst Economic Development Corporation (EEDC), including service as Vice Chairman and then Chairman (2000-01).
His honors included Elmhurst College's Bluejay Backer Hall of Fame (2016) and Community Service Award (2011), Elmhurst Jaycees Distinguished Service Award (2007) and West Suburban Philanthropic Network Award (2005).
A long-time Rotary Club of Elmhurst member, Bartels has served on the boards of the Friends of the Forest Preserve District of DuPage County, Elmhurst Heritage Foundation, Elmhurst Symphony Endowment Trust, West Suburban Philanthropic Network and Rotary.
A 37-year Elmhurst resident, Bartels is a Carthage College alumni award recipient.
Kevin Kost
Kevin Kost, Financial Advisor with Edward Jones Investments since 2008, is a second-term elected Director who joined the Chamber Board in 2013.
As First Vice Chair, Kost will chair the Marketing Committee in 2018 after chairing the Membership Committee in 2017. He also is a member of the Chamber Ambassadors and hand delivers some 600 New Resident Greeter Totes annually.
As a Rotary Club of Elmhurst member since 2010, Kost has served in various board positions, including President for 2014-15, the service club's youngest in more than 50 years. He chaired the club's committee for The Stop Heroin in Elmhurst Campaign.
Suburban Life Media named Kost among its dozen Best Under 40 honorees for 2015.
Kost earned a degree in marketing and sales from the College of Business at Illinois State University in Bloomington-Normal in 2008.
A native of Lockport, Kost now resides in Elmhurst.
Lori Murray
Lori Murray, Vice President, Branch Sales and Customer Service, at Inland Bank, was appointed to fill a Board vacancy in 2016 for a term that expires in 2018.
As Second Vice Chair, Murray will chair the Membership Committee that she served on in 2017. She served as a member of the Marketing Committee in 2016 and 2015.
Murray also has served on the Villa Park Chamber of Commerce's Board of Directors.
Her career includes Branch Manager positions at Associated Bank in Roselle, Great Western Bank and the former Citizens Bank (now FirstMerit Bank), both in Grinnell, Iowa.
Murray earned a Bachelor of Applied Science degree (1995) from Minot State University in North Dakota and previously attended Medicine Hat College in Alberta, Canada.
Murray now resides in Schaumburg.
Ralph Pechanio
Ralph Pechanio, ECCI Hall of Fame 2015 inductee, 46-year Chamber activist and retired community banker, was appointed for a one-year term at Treasurer for a third consecutive year.
Pechanio has served three Board terms as an elected Director (1980-82, 1987-89 and 1990-92), including tenures as 1992 Chair (then President) and as Treasurer in 1981 and 1990.
Pechanio has served the business and civic communities since his "retirement" from banking in 1993, including chairing the Elmhurst Veterans Memorial Commission since its inception prior to the Elmhurst Veterans Memorial dedication on May 31, 1993, and co-chairing the Elmhurst Memorial Day Parade Committee since 1997.
A veteran of the United States Army (1965-67), Pechanio played an integral role as Fundraising Chairman in the building of the Veterans Memorial in Wilder Park during his tenure as ECCI Board Chair.
A green-coated Chamber Ambassador since 1992, Pechanio is a two-time recipient of the Ambassador of the Year award (2011 and 1993).
Pechanio's local affiliations include the Kiwanis Club of Elmhurst and Elmhurst American Legion THB Post 187.
His honors include the Elmhurst Jaycees' Distinguished Service Award (2001), ECCI's Good Works Award (2009) and the Bluejay Backers' Community Service Award (2014).
His community banking career included 23 years at the former Elmhurst Federal Savings Bank (1970-93) as a Controller, Vice President and Treasurer, and then Chief Financial Officer.
He graduated from DePaul University in 1964 with a major in accounting.
Pechanio and his wife, Georgette, have resided in Elmhurst since their marriage in 1969.
Joe Muchow
Joe Muchow, President at E.L. Foust Co. since 1997, was elected to a second term as a Chamber Director in 2014, served as Board Chair in 2017, First Vice Chair on the Executive Committee and Chair of the Marketing Committee in 2016, and was a member of the Governmental Affairs Committee from 2011-15.
While his second term as an elected Director ends in 2017, Muchow will remain on the Board by virtue of his status as the immediate Past Chair.
A Chamber member since 1977, Muchow also served as General Manager of E.L. Foust from 1989-97 and was President (1995-99) of his Service Employees International Union (SEIU) Local.
E.L. Foust has been a manufacturer of high-quality air purifiers for allergy and asthma sufferers since 1974 and now offers a line of "green" cleaning products for work and home.
A member of the Illinois Professional Firefighters Association since 1974, Muchow won Firefighter of the Year in 1998 and earned the Joseph Hartman Award for Paramedics.
Muchow earned a Bachelor of Arts degree from Western Illinois University and an Associate Degree in Fire Science from the College of DuPage.
Until last year, Muchow was a resident of Elmhurst for 36 years.