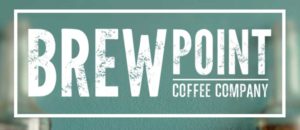 ELMHURST, Ill., December 20, 2017 – Brewpoint Coffee, now with three locations in Elmhurst, will receive the A.J. "Toche" Terrones Business of the Year Award for 2017 at the Elmhurst Chamber of Commerce & Industry's 99th Annual Awards Gala held at The Drake Oak Brook Hotel in Oak Brook on Friday, January 26, from 5 to 9 p.m.
A family-owned and operated business, Brewpoint has operated a coffee shop in downtown Elmhurst since 2014, opened the Lexicon Café inside the Elmhurst Public Library last September and opened a coffee roaster in north Elmhurst in December.
The annual award is given based on a member's contributions to the Chamber's success, to the betterment of both the business community and Elmhurst community, and impact in their field of business, each in the given year and historically, along with years in business and years as a Chamber member.
"Brewpoint Coffee instituted a strategy for success at a location kitty-corner to the Metra train station where others before them have failed," said John R. Quigley, the Chamber President and Chief Executive Officer (CEO) since 1999, "and developed the tools to allow for well-organized business expansion."
A Chamber member since 2016, Brewpoint Coffee is owned and operated by the wife and husband team of Melissa Villanueva and Angelo Sepulveda.
The award presentation will be made by Outgoing Chairman of the Board of Directors Joe Muchow of E.L. Foust Co. and Quigley.  Joining them in the award presentation will be representatives of Roberto's Ristorante & Pizzeria, the 2016 Business of the Year recipient.  Roberto's Ristorante & Pizzeria will receive an acrylic Business of the Year plaque to put on display at its downtown Elmhurst restaurant.
The annual award, which features a traveling trophy and permanent plaque, is named in memory of A.J. "Toche" Terrones, who served as Chamber President for nearly a decade until his death in July of 1999.
Other Business of the Year honorees are Café Amano (2015), West Suburban Office Products (2014), Community Bank of Elmhurst (2013 and 1999), York Furrier (2012), Elmhurst Memorial Healthcare (2011), OEC Business Interiors (2010), Harris Elmhurst (2009), Diplomat West (2008), Suburban Bank & Trust Co. (2007), Larry Roesch Chrysler Jeep Dodge (2006), York Theatre (2005), Synergistic Networks, Inc. (2004), Silverado Grill (2003), Great American Exteriors (2002), Cardinal Cartridge, Inc. (2001) and Unique Travel Service, Ltd. (2000).
The traveling trophy of imported 24% German lead crystal atop a mahogany wood base will be displayed at Brewpoint Coffee's downtown Elmhurst location until the Chamber's 2017 Annual Meeting and Awards Dinner, while an award plaque with a nameplate listing Brewpoint Coffee is on permanent display at the Chamber office.
In 2014, Villanueva decided to walk away from her "corporate" job as the Director of Recruitment and Development at McTigue Financial Northwestern Mutual after three years, convincing then-boyfriend Sepulveda that the two of them invest all in on a downtown Elmhurst coffee shop located at 124 West Park Avenue.
An award-winning, door-to-door salesperson of educational books for Southwestern Company from 2010-11, Villanueva had already learned about the dos and don'ts of the coffee service business while working as Starbucks barista from 2005-08.
Sepulveda, a graphics designer by trade for the past dozen years, served as the Elmhurst Art Museum's Director of Education and Events in 2015-16 and as a contracted Fine Art Curriculum Designer and Instructor for Chicago Public Schools in 2011.
The couple recently opened the Brewpoint Workshop & Roastery at 617 North York Street at the north end of the York Center Plaza, thanks to $60,000 in Tax Increment Financing (TIF) District 4 assistance from the City of Elmhurst.
Established in 1918, the Elmhurst Chamber of Commerce & Industry is a voluntary organization of business and professional men and women who have joined together to promote the civic and commercial progress of the community.
The Chamber's mission is to promote an environment that creates success for local businesses and our community.
The Chamber also serves the needs of its members through services, programs and events that provide opportunities for networking and referral, business education, development and promotion, governmental representation and community involvement.