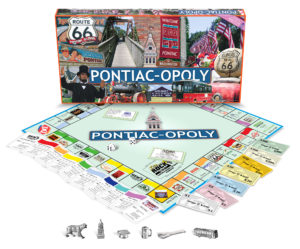 CLAIM YOUR SPACE IN ELMHURST HISTORY!!!
Your Elmhurst Chamber of Commerce & Industry is in the process of creating Elmhurst-Opoly board game!!!  Based on the well-known Monopoly©, our version will feature long-established businesses, as well as businesses that reflect "a sign of the times."  Click HERE to register as a sponsor.
Our goal is to create a game board that reflect the best of Elmhurst and a board game that residents will treasure for years to come.
As an ECCI member, only you have the opportunity to be memorialized on 1,000 Elmhurst-Opoly board games via one or more of the 72 sponsorship opportunities ranging from $2,000 down to $35, which are available while they last or until the March 30 production deadline.
Games will go on sale for $25 (retail sales tax included) in June at member businesses.
Proceeds from the game sales will benefit the Chamber's Centennial Celebration Capital Campaign $100,000 Second Century Fund.