Elmhurst artist Wes Baker to exhibit paintings of iconic American images
August 14, 2017
The Elmhurst Artists' Guild is pleased to announce, "American Images", an exhibition featuring the paintings of Wesley R. Baker, to be held in the Elmhurst Artists' Guild Gallery in the Elmhurst Art Museum, 150 Cottage Hill Ave., Elmhurst, IL 60126.  The exhibition will run from August 13 to September 22, 2017.  The public is invited to meet the artist at the free opening reception on Friday, August 18, 2017 from 7:00 to 9:00pm.
The exhibition will feature a diverse collection of abstract iconic American images, ranging from motorcycles and landscapes to Civil War and Native American themes, exploring current and historical political issues.
Baker's style tends toward abstract representational. Artistic inspiration has come from two centuries of sources, ranging from 19th Century impressionists to 20th Century symbolist and abstract painters like Gustav Klimt, Franz Kline, and Chicago Imagist, Ed Paschke.  Kline's influence is clearly visible in "Jake's Bikes", employing broad splashes of blue and white that evoke the motion of roaring motorcycles.  Paschke's electric luminescence prompted the technique in "Past Flows to Future."  Correspondence between grief-stricken Elmhurst-area brothers during the U.S. Civil War inspired "Death Comes Home," a diptych previously displayed in the Elmhurst History Museum "Letters from Home" exhibit honoring the sesquicentennial of the Civil War.
Baker says of his art, "The passion in these paintings is personal. Through my paintings, I strive to communicate experiences of life – joy, freedom, fear, grief."  Referring to a painting that was part of a four-year traveling exhibition of motorcycle art at the National Motorcycle Museum and the Motorcycle Hall of Fame, Baker explained, "Some of my paintings, like 'Cloud Chaser,' are about the wind in my hair, and two wheels in motion. It's unclear where the rider is going, and whether the ride is free-spirited and joyous, or whether imminent danger looms ahead."
Works such as the textured "Broken Lands," invite critical thinking about current or historical events.  Baker described a large abstract landscape, "'In Between – Ormond Beach' shares that wondrously peaceful moment when the last bit of sunlight slips beneath the horizon on a secluded beach."  He continued, "My life is an American journey. My paintings are an open invitation to come along."
Baker began his artistic career as a teenager, working as a sign painter and pinstriper. After a four-year stint as an artist in the U.S. Air Force, working as an illustrator for the flight magazine and the flight school, he returned to college and earned a Bachelor of Arts degree in Industrial Design.  After a thirty-five-year career in the construction industry, he came full circle and returned to painting full time. Learn more about the artist at www.wrbaker.com.
Most artworks in the exhibit are available for purchase.  Sales benefit the artist, the EAG and the Elmhurst Art Museum.   The exhibition can be viewed during regular Museum hours, Tuesday, Wednesday, Thursday, Saturday and Sunday from 11 am to 5 pm and Friday from 11 am to 7 pm.  Admission is $9 adults / $8 seniors except the first Friday of each month which is the Museum's free admission day. EAM and Guild members, students and children under 18 are always admitted free.
The EAG gallery is not-for-profit, operated by the Elmhurst Artists' Guild.  It features original contemporary artworks in a variety of styles and media.  The guild hosts an array of member group shows, solo and invitational exhibits by local artists. More information is available at elmhurstartistsguild.org. EAG exhibits are partially supported by grants from the Illinois Arts Council.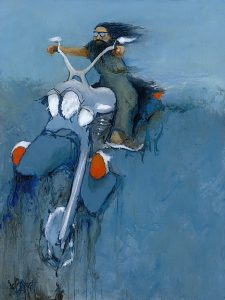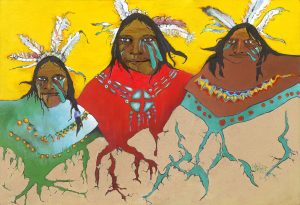 Broken Lands, © Wesley R. Baker, 2017 – All rights reserved
Cloud Chaser, © Wesley R. Baker, 2017 – All rights reserved